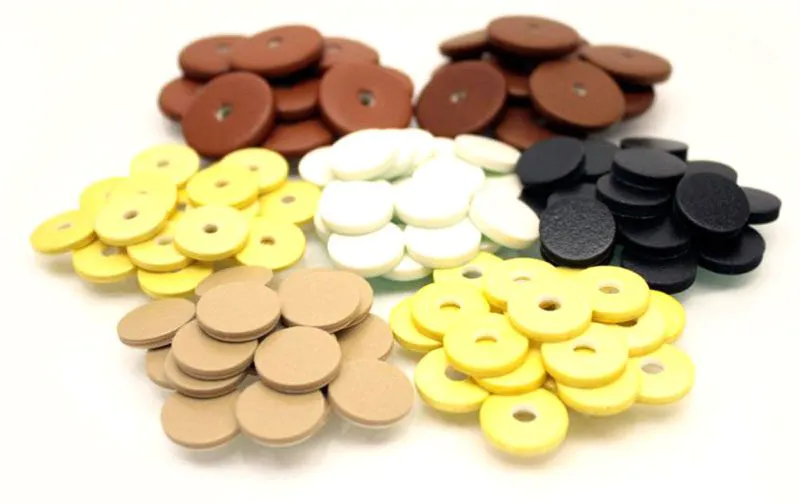 Valentino pads offers a full range of superior pads, including advanced laminated designs and leather or bladder-wrapped models for every type of woodwind instrument. The world's top performers, repair technicians, band directors and major manufacturers rely on Valentino to play better, last longer, install easier and make their businesses more profitable. Whether it's a single pad, a complete horn, or an entire production run on a fleet of instruments, Valentino has a variety of specialized pads that simplify installation and elevate performance.
A Variety Of Pad Styles For Diverse Applications
Quick-Fix: The perfect solution for emergency repairs, these easy to use, peel-and-stick pads seal beautifully and play with the responsive feel and tonal color you expect from Valentino. Quick Fix pads are available for every major orchestra woodwind and are included with all of our popular Valentino Fix Kits, which give band directors and musicians a way to master any emergency or DIY repair.
Greenback: Our most popular category, Valentino Greenbacks come in a variety of materials, and synthetic cork, in sizes to suit any type of woodwind including Flute, Piccolo, clarinet, Oboe and Bassoon. Long the choice of professional clarinetists, Greenbacks are the ideal option for top performance and tonal consistency in an affordable, long-lasting pad.
Masters Series: The ultimate performance pads for professional instruments, Valentino Masters are the result of decades of experience working with leading artists, technicians and manufactures to achieve a standard of perfection unmatched by any other woodwind pad. Advanced materials and cutting-edge construction offer a level of precision that makes these the favorites of technicians who service professional instruments and they provide extraordinary dynamic range and exquisite feel that are essential to the professional musician.
Prodigy: The Prodigy series offers significant savings with solid performance in an everyday band instrument pad. Innovative wrapped construction over felt provides a reliable, cost-effective solution for student flutes, clarinets and saxophones with the tonal projection and responsiveness you expect from Valentino.
Legend: The Valentino Legend is a superior performance saxophone pad that lives up to its name with exceptional feel, color and dynamic range. Designed for professionals and advanced artists, the proprietary design features kid-wrapped construction over dense felt. The natural kidskin is untreated so it won't stick the way other, pretreated pads do, and it allows the artist to choose the exact type of surface treatment and color they desire for a truly custom feel and appearance.
Blueback: Custom, made-to-measure pads for manufacturers, the blueback is a unique product created specifically for manufacturers whose instruments demonstrate an exceptional degree of accuracy in their key work. Designed for press fit installation on the top 13 and floated in on the bottom 4, the blueback plays like the greenback but with the advantage of highly efficient installation for mass production applications.