We make instrument trials easy.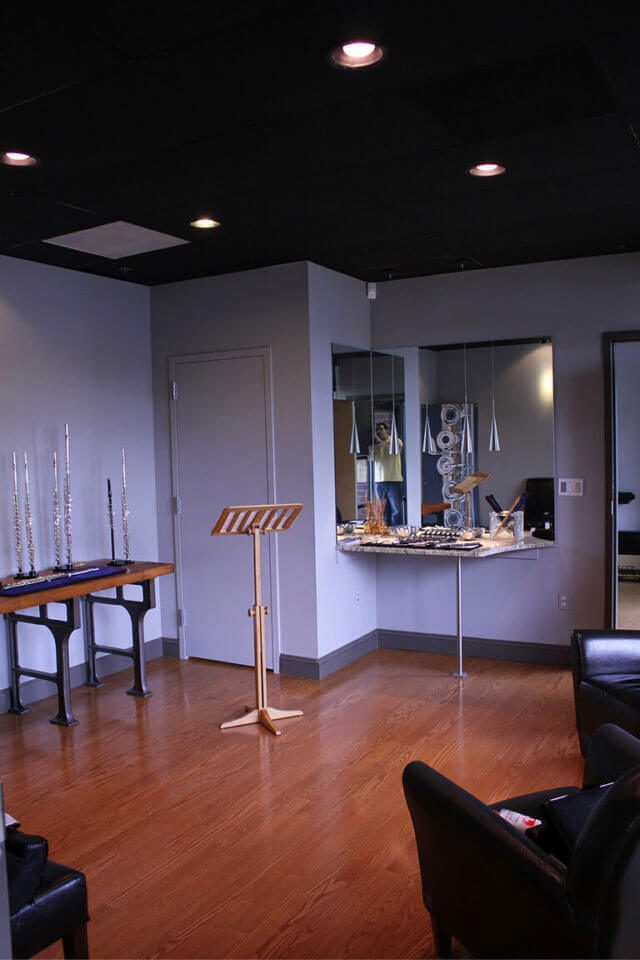 Every flute, piccolo and headjoint is unique so it's absolutely essential to play the instrument before you purchase it. Instrument trials are tremendously important for the musician and that's why J.L. Smith has the most generous instrument trial program in the business: we want to make it easy and convenient to discover the instrument of your dreams. J.L. Smith offers both in-home and in-store trials for your convenience.
In-Store Trial: Flutes are shown by appointment in our store. To arrange an in-store consultation, please contact one of our Flute Sales Specialists at (800) 822-2157 or by email at [email protected] to arrange a consultation appointment.
In-Home Trial: Instruments will be shipped directly to you for a 3-5 day trial (depending on the model). Unlike other flute vendors, we don't charge your credit card for trial instruments or put a hold on the card during the trial period. The purchase amount is only charged after you decide to purchase the instrument. The only cost for trials is a nominal trial fee that covers shipping, handling and insurance. The amount of the trial fee is determined by the value of the instruments. We even include a pre-paid return label with your trial package for convenient returning shipping.
As the nation's most trusted and respected flute, piccolo and headjoint dealer, we have deep and long-standing relationships with the best flute and piccolo makers around the world and all of our flutes, piccolos and headjoints are carefully selected as the very best examples from each of the makers that we represent. Once the instrument passes our initial selection process it undergoes a detailed inspection and fine adjustment in our world-class workshop before it's ever offered for trial, so musicians always know they are experiencing the highest level of performance from every instrument they try. To arrange your flute, piccolo or headjoint in-home trial, please contact one of our Flute Sales Specialists at (800) 822-2157 or by email at [email protected].
We want every musician to have easy access to the best instruments and we make our trial program as easy and flexible as possible but there are some basic guidelines to remember:
All trials are arranged by one of our Flute Sales Specialists exclusively by phone at (800) 822-2157 or by email at

[email protected]

.
Instrument trials are for 3-5 days (depending on the model) and your trial period begins on the day of delivery.
Instruments not purchased must be in transit back to J.L Smith no later than the designated return date.
Any instrument not in transit by the fifth day (may vary by model) will incur a 1% late fee that will be charged to the credit card on record based on the value of the instrument(s).
Any instruments returned after that date will be subject to a 20% restocking fee.
Instruments must be returned in the same condition as when received or the customer will be assessed for any damages including scratches. Inspect the instruments carefully upon arrival and notify us immediately of any damage.
Please remove all rings and jewelry prior to playing these instruments.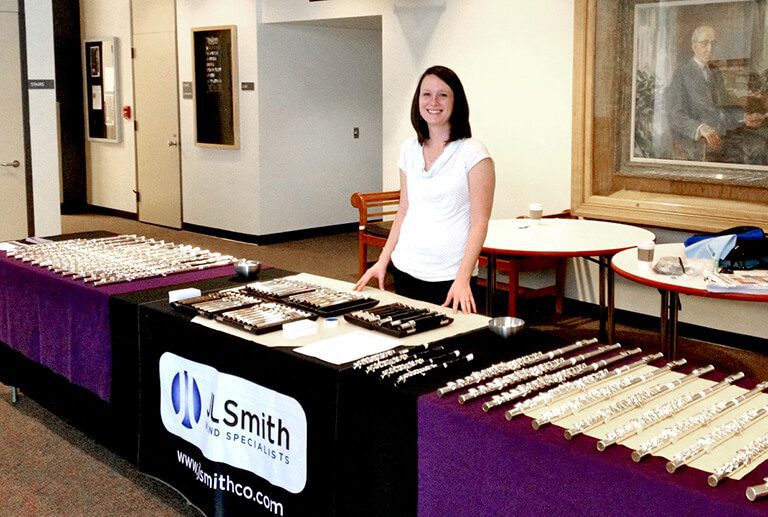 Sarah Hollandsworth (Director of Sales & Marketing) and our Flute Sales Specialists are available to consult with you about flutes, piccolos, and headjoints either in person or over the phone.
For more information on the J.L. Smith Flute, Piccolo, and Headjoint Trial Program, please contact one of our Flute Sales Specialists at (800) 822-2157 or by email at [email protected]
Our flute team at the NFA convention: Jeff Smith, Sarah Hollandsworth, and Alex Xeros.